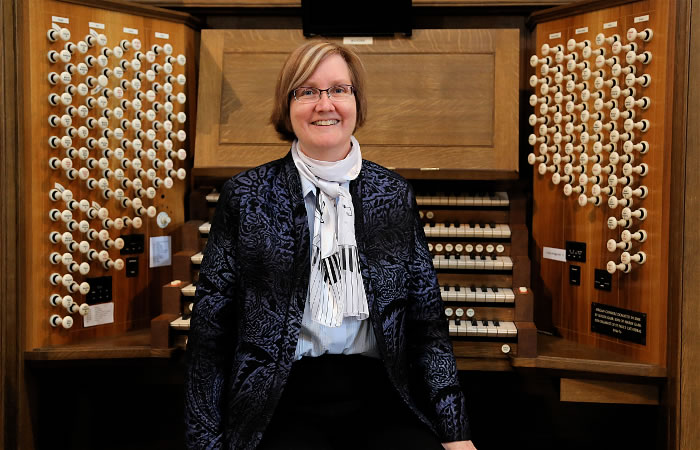 Angela Kraft Cross, AAGO
Angela on American Public Media Pipedreams!
Listen to Pipedreams December 23, 2019 broadcast for Angela's performance of her original composition Les Bergers (1999).
You may also like Pipedreams April 16, 2018 broadcast for Angela's performance of two of her original compositions -- A Joyous Celebration (2009) and Courage in a Time of Struggle (2011-12).
Angela Kraft Cross is an internationally respected virtuoso organist, pianist, composer, and eye surgeon. To learn more about her see her Biography page.
Dr. Kraft Cross is passionate about performing and sharing the joy of organ music through stimulating audience-accessible programs. She enjoys providing verbal program notes when appropriate. To contact her about playing a concert, please contact by Email.
Dr. Kraft Cross also loves teaching and leading master classes. Recent classes to AGO chapters have included:
San Jose Chapter: Harvesting Young Organists
North Valley Chapter, Chico: The Organ Works of Felix Mendelssohn
Redwood Chapter, Santa Rosa: César Franck and the French Romantics
Dr. Kraft Cross is a recording artist, having released eight solo albums since 2002. To learn more about her discography, click here...Recordings
Dr. Kraft Cross is a composer and her works have been appreciated by audiences internationally. She has released her first album of original compositions, Sharing the Journey in December 2013.
Dr. Kraft Cross is the Founding Director of the San Francisco Peninsula Organ Academy (founded 2014) which provides generous scholarships to young concert organists to go on short-term intensive overseas study trips.
Please visit the calendar page for complete concert listings. You can also contact Dr. Kraft Cross by Email or by snail mail at P.O. Box 941 • Redwood City CA 94064.